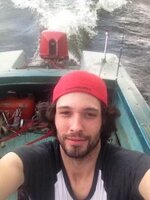 Devin Jared Mason Barkhouse
On Wednesday, July 27,2022 Devin Jared Mason Barkhouse passed away near Frenchman Butte, Saskatchewan at the age of 36. Devin worked at Precision Drilling for 15 years. He had a passion for outdoor adventures including hunting, atv'ing, fishing the lakes around Saskatchewan and his horse "Big Red". Devin loved his 2 children with all his heart. Devin will be sadly missed by many and his family who always supported him from afar in Nova Scotia.
We know your soul is at peace…till we meet again.
He is survived by his children Peyton and Mason; Mother Nancy Mason; Father Jared Barkhouse (Wanda); Brother Shea Barkhouse ( Emma) Paternal Grandmother Genevieve Barkhouse, the Mother of Peyton and Mason, Shelby Fiddler.
He was predeceased by his maternal Grandparents Pauline and Stanley Mason; Paternal Grandfather Loris Barkhouse.
Cremation has taken place and no formal service will be held. Devin's family will be spreading his ashes at cherished locations.
Donations may be made to a Give Send Go account set up in Devin's name https://givesendgo.com/G3NGS?utm_source=sharelink&utm_medium=copy_link&utm_campaign=G3NGS or to the charity of your choice.